You know I love milfs and I love sending and receiving selfies from all that I encounter. Well, I recently had the unfortunate experience of using a site called LocalMilfSelfies.com. This is a milf dating site that portrays itself as being the most badass casual dating site for milfs and guys that wanna bang them. Well, I hate to say it but I was taken for a ride when joining this site. I'm going to tell you exactly what happened and how I uncovered the scam in place. Whatever you do, I urge you not to join the site. Read my review to learn everything you need to know.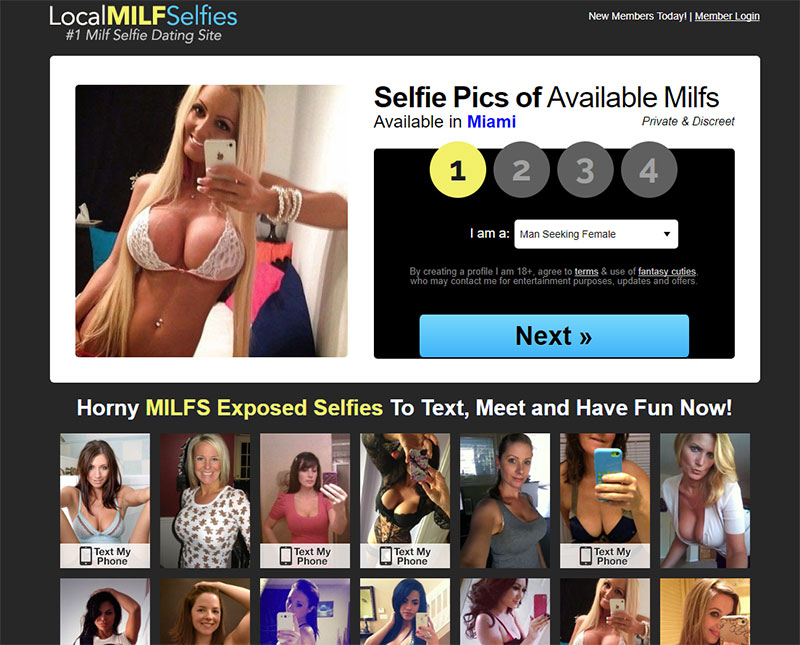 How LocalMilfSelfies Totally Tricked Me (Review)
Before I get into the shady details of this site, I'd like to advise that you do something. There are so many horrible dating sites on the planet today. If you're not putting forth the effort to really investigate each and every one of them before spending money then you're a fool. LocalMilfSelfies.com lays everything out that they do in their terms and conditions. I wish I read those before joining. This review will save you time and money.
Quick Site Overview
The website looks super inviting, but it's nothing of the sort. Instead, it's a site that houses a bunch of fake profiles. It's connected to another milf dating site that you might know about called Milfaholic.com. The sad truth is that both sites are a complete scam. I should probably share some details as to why they are. I'll kick things off with the fake messages.
Fake Chats Almost Immediately
If you foolishly take the time to register for this site, you'll quickly realize that messages via chat come flying in almost within seconds. It's so quick that it happens before you even get a chance to completely build out your profile. Now, why on earth would someone want to contact you when they haven't got a clue as to what you look like?
You're right, they wouldn't ever do that.
The thing is, these messages are all from dating profiles that are not real. If I had to guess, I'd say that 99% of the women on the website are completely fake and all those sending the chat messages are definitely fake. This is a strategy that the site has in place in order to get you to upgrade your membership. That's the only reason they've done this. While I'm all for selfies and sharing nude pics, I definitely am not down for doing it with some fake bots on a dating site.
Image Search Tells All
I'm sure you're just like me in a sense that you love checking out all the selfie milf Tumblr pics all over the web. Chances are you'll see some of the same pics on this site. I hate to say it but a simple reverse image search was able to identify that most of the images are ripped from other sites. How do I know this? Well, the search told me just that. When I did a reverse image search, I quickly learned that the profile photos were stolen from sites across the web. It seems like many of the images come from forums that exist and even social media profiles. This is a tell tale sign that profiles are fake and not worth your time.
The Terms Are Bogus
If you read the terms, you'll notice that the site mentions the use of Fantasy Cuties. Guess what, these are all fake profiles that are heavily sprinkled throughout the website. Chances are you'll come across dozens of them thinking that they are real users. The bottom line is that they are completely fake and will not get you anywhere. Unless you enjoy chatting with a bot or a computer, then I'd suggest you stay away from them.
The Costs
Yes, be it as crazy as it sounds, you have to pay for this site! It can cost you anywhere from $8 to $119 depending on what subscription plan you choose to go with.
Conclusion: LocalMilfSelfies.com Is A Really Bad Site
I don't care if you like browsing through selfies and hot naked milfs all day long. On this site, doing just that will get you nowhere. It's definitely one of the worst sites I've used and I can say that I'll bet everything I own that you will never hook up with a real local milf. I'll keep sticking to using the site I've been using for years because it works better than the rest.