I'll come right out and say it to you. I'm the first guy to admit just how much I like hooking up with other people's wives. It sounds horrible but it's totally true! I love horny wives, which is why I opted to join Lonelywifehookup.com.
What a huge mistake.
I was so furious about what I discovered that I thought not sharing what I learned would be a disservice to all others out there. Find out what I learned about this website and how you'll never ever get lucky using it.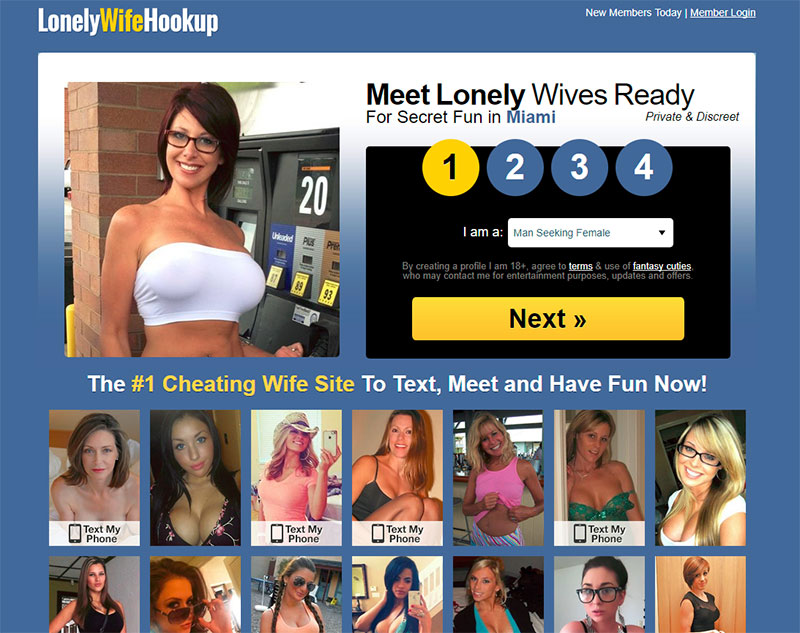 My LonelyWifeHookup.com Mistake [Site Review]
I've shared everything that I know about the site and what you need to remember should you decide to join. Please, do your wallet a favor and read this review first!
LonelyWifeHookup.com hides nothing. They tell you everything that they are going to do, so it's not really a scam in one sense.
It's very easy to find if you know what you're looking for. Naturally, they don't tell you upfront what's going on. They do lead you to it.
With a little digging into the terms of service that everyone has to agree to, you can see exactly what they're doing. You find out almost immediately that pretty much every single profile on their site is a fake.
You will also learn that the people you talk to will never meet up with you, no matter how much time you waste trading messages and getting yourself all excited.
Online Cuties Admittingly Used
Deep down in the fine print, the site tells you that it employs "Online Cuties." These, for lack of a better term, are simply fake profiles.
They're created by the site and populated with all of the information that you would hope to see if you were actively looking for a lonely wife to spend your night with.
The pictures are either ripped from other profiles or taken by actual photographers, who can make their work look like it's a selfie or portrait from an amateur, who just wants to attract a strong young man.
Check The Profiles For Yourself
None of this is overly strange, but if you start checking out profiles, you're going to be noticing that a lot, if not all of them, have an "OC" status icon. It's right in the upper right-hand corner of the page and it's everywhere.
Now would be the time to try and guess what it means if you don't want spoilers. Okay, time's up. It stands for "online cutie." That's right, they actually tell you which profiles are fake right on the page without actually spelling the whole thing out for you.
This icon is on the vast majority of profiles, so that should be reason enough to simply walk away from this place, but there's more. Even deeper into the legal jargon, they admit to using third-party contractors to talk to their members. Now, you know that you are never going to have sex with any of these people right? You'd actually be better off hiring an escort than using this site. I hate to say that, but it's undeniably true.
Upgrading To Chat
If you actually go through the trouble of signing up and upgrading your profile, you might just think that it's all been worth it when you start talking to someone. Unfortunately, that someone is more likely than not a paid member of the site who talks in exchange for cash. It's a pretty safe bet to say that nothing about this place is real.
Conclusion: Lonely Wife Hook  Up Is Not Helping You Hook Anything!
There's just nothing good about the Lonelywifehookup site. It offers nothing but cheap entertainment to people who think they're getting something different. Aside from all of this stuff, all you have to do is use your brain and look around to know that nothing here is real.
If the site really were populated by married women who were actively looking for affairs, do you think it would make sense to them to post public pictures of their faces on a site called lonely wife hookup? Of course not. Don't waste your time here, just move on to a better option. Trust me, if you stubbornly sign up for Lonelywifehookup.com you'll eventually be calling your credit card company to cancel. Do not make that mistake.