We all love dating milfs, it's a known fact and one that we can't seem to escape. One of the dating sites that we tend to flock to is the Milfsaffair.com website. This dating site is something that many people would think that would work well. Truth be told, the Milfsaffar.com site might not be legit at all.
Sure the site is one of the dozens that cater to meeting milfs, but for the most part connecting with older or aged women using this site is a lost cause. The site might just be another one of these terrible dating sites that that's all show and nothing more. Before you jump to any conclusions you need to read this review. I'm going to give you a few bullet points that describe everything that I dislike about this milf dating site. Here's what you need to know.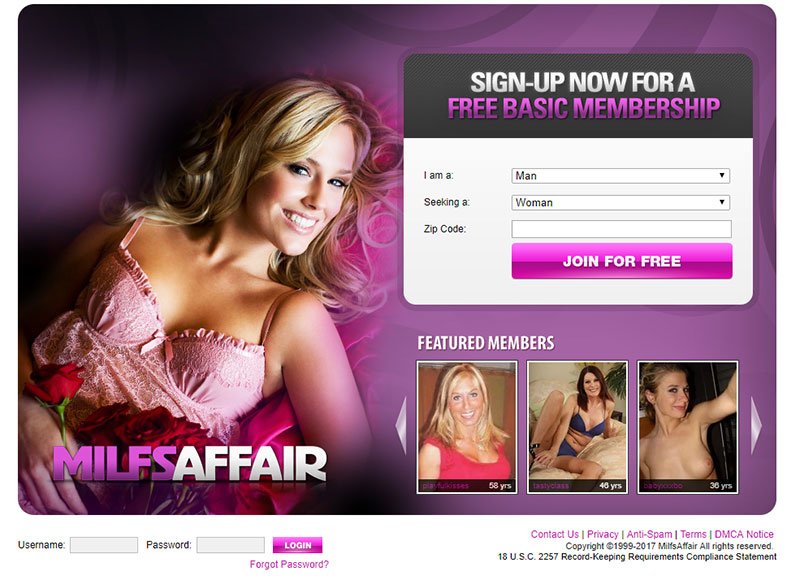 MilfsAffair.com And What I Learned About The Site
Before I go on a huge rant, here's what you need to know about this site and why I hate it (in a nutshell).
It Costs Money
Fake Users Everywhere
Employees Contacting You
Auto Friend Requests
I'll cover each of these topics one by one and give you a rundown of everything that I hate about Milfsaffair.com. But first, let me tell you that this site is definitely not legit and it's not legit for many reasons which I've covered in the past before on other websites. I'll start with the cost of doing nothing good…
Yes, It Costs Money
If you plan on joining this site, you best be ready to spend your money. Most legit hookup sites cost money, but some of the fake ones try to get you spend money for absolutely nothing. Milfsaffair.com is one of those sites that costs a ridiculous amount of money and all for nothing at all.
What's the price? The price is $29.95 for a one-month membership and $69.00 for a three-month membership. What the site typically does is they get you to join for free, then they ask if you want "upgrade" to communicate and do other things on the website. The monthly membership here on Milfs Affair is likely to bring you nothing but credit card charges and that's it.
They Use Fake Profiles
Yes, you heard that correctly. The site utilizes a technology which most fake sites try to deploy. It's super annoying and one that I cannot begin to put down enough. These profiles that they incorporate into the site are called "Online Cupids" and they are completely fake. On top of that, these profiles legit try and lure you in to get you to upgrade.
I know most people are thinking that this is completely illegal but it's really not. The fact that you agreed to the terms and conditions is something that you need to accept if you've already joined. They pulled the wool over your eyes and you're a fool for that. Now, you can be on the lookout for "OC" logos on the profiles of users to see if they are fakes trying to contact you. Before you spend any money, I'd totally suggest that you see if real users actually exist on this site. I personally could not find a single real user. My guess is that you won't find one either, just saying!
Employees Work As Users
The MilfsAffair.com website employs users to spend time communicating with real people that sign up. They make it seem like they are willing and able to meet you in person. Truth be told, they aren't meeting anyone at all. It's really sad that the company does this but it just goes to show you that they have zero regards for you and your potential to actually hook up. Instead, they simply chat, email and IM you to get you to upgrade and spend more money on the site. Unfortunately, it's nothing but a load of crap!
Friend Requests All Day Long
I love getting tons of real requests from smoking hot milfs to connect. The problem is that this site doesn't have anything like that going on. Instead, they incorporate some fake milf requests to entice users, making them think that they are real people that want to connect. Truth be told, there's nothing real about these buddy requests and they will never lead to real meet ups in person. I've never accepted a buddy request and met someone on this site. Simple as that really, the site sucks. The problem is that you agree to the terms when you register and this is all part of them.
Contacting The Company
Want to contact Milfsaffair.com and get them to cancel your membership? Great, then here is all the information that you need to know in order to successfully cancel or dispute your charge. My advice would be to call the support line at 1-888-649-9178 or email them at support@milfsaffair.com. They'll be able to cancel any charges you've previously authorized.
Conclusion: Milfs Affair Does Not Work At All
If you're looking to use a milf dating site, then you will not find one worse than MilfsAffair. Actually, it's possible that Local Milf Selfies is just as bad if not worse. The moral of the story is that you need to be cautious when using any dating site, especially those that claim to be free and aren't. You're far better off joining this site here versus others.