There's no need for me to make any formal introduction here. If you're on my site right now, then you know we have one thing in common. We both like to bang milfs. That being said, there's a chance that you'll eventually meet the milf of your dreams if you choose to use the right dating site. One thing you need to know is that Milfshookup may not be the site for you.
I took time out of my personal day to share everything that I learned about this milf dating network and unfortunately, what you hear isn't necessarily going to make you happy. Here's my complete review after using the site for close to a month.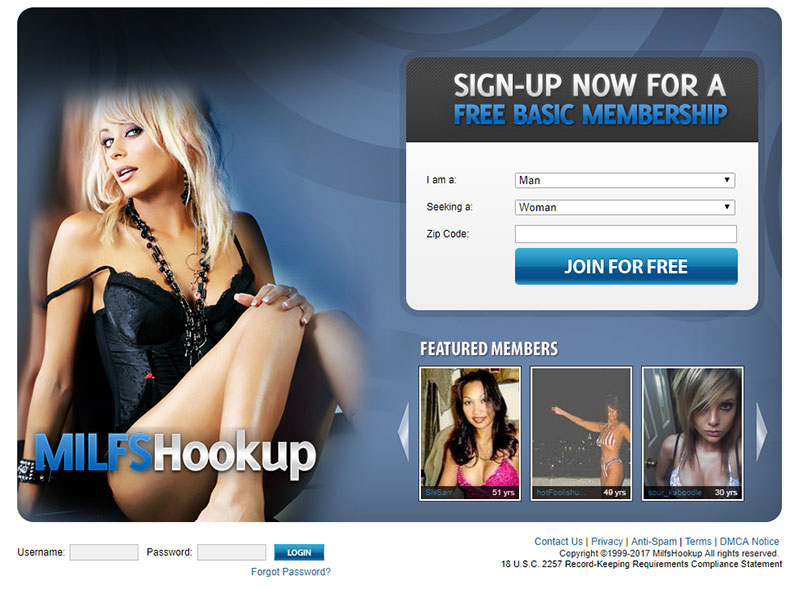 A Month Long Journey Using MilfsHookup.com Revealed This
Before I get into the details of what I learned, it's best that I share an overview of the things that you'll want to focus on here within my review. There are some simple things that you absolutely need to know about if you plan on using or joining this site.
Costs a lot of money
Auto bots message you constantly
Tons of fakes on the site
You'll never meet anyone in person
Contractors paid to chat and flirt
Huge network of scamming sites
That's a quick rundown and here's what you need to know about it in greater detail…
Yes, It Costs Money
Some people haven't got any idea as to whether or not this site costs money. When they first register they haven't got a clue as to the cost because the site portrays itself as being completely free. Just look at the screenshot and it tells it all.
However, there's nothing free about this site at all. In fact, you'll end up spending at least $29.95 for a 1-month membership or $69.95 for a 3-month membership. Keep in mind that these memberships automatically renew every single time until you cancel. So, you best have your wallet ready.
Auto Messaging Is In Place
There is auto messaging in place which the site uses to communicate with the few real users that join. These are algorithm driven messages that software sends to entice you to upgrade your membership. Best case scenario is you waste time sending messages back and forth via IM and chat mail to absolutely no one. It's not a good idea, to say the least. Keep in mind, there are no milfs on the end of these messages and milfshookup.com is just doing this to get your money.
Fake Profiles
Speaking of money, another way that Milfshookup tries to get your money is by making it seem like the site is far more populated than it really is. What I mean by that is they have fake profiles in place all over the site. These profiles are referred to as Online Cupids and they don't help you hook up. Instead, they keep you semi entertained by displaying naked milf pics and sending fake bot messages. It's a standard trick to get you to upgrade and nothing more.
Don't Plan On Meeting People
You can send messages all day until you're blue in the face. I don't care how long you try and send messages, you'll never end up meeting some milf in person on Milfshookup. It's just not going to happen.
Having tried to do so for over a month, I know that there are no real users looking to bang on this website.
Contract Workers On Site
Did I mention that there were no real users? Well, there are real contract workers that are paid to send you messages. I've never in my life been able to successfully meet someone in person that's paid to send you messages. Heck, you may think you're talking to a milf but it might be a dude. You have no idea in these circumstances. What a huge waste of time and energy!
Huge Scam Site Network
Okay, so based on my research there are other sites out there that are connected to the Milfshookup site. In fact, I found close to a dozen sites that the parent company runs and they do the same thing here as the other sites. My point is that based on my personal research, it all seems to be a huge scam. Avoid all their sites as well as sites like this one.
If by chance you did sign up for this already, then I want you to cancel by reaching out to support@milfshookup.com or calling them at 1-888-649-9178.
What's The Bottom Line?
The bottom line could not be any more clear. Milfshookup is a complete waste of time and effort. If you're looking to meet mature women, then this isn't the site to do it on. Everything about this site totally stinks and I can't say worse things about it! Do yourself a favor and use the one I recommend before trying this. You'll save lots of time and money.