If you're a young guy looking to meet up with a hot milf and eventually get lucky, then chances are you may bring them back to your place eventually. Now, I'm sure you love your bachelor pad and you set it up just the way you wanted when you moved in. Well, I'm here to tell you that your living quarters situation can have an impact on your hookup success.
Priorities may change and you need to evolve or move forward in life with regards to some "bachelor aspects." This holds especially true if you want to have a place that is going to impress the ladies. Changing your home decor might be the biggest step necessary to take if you want to get laid more. Now, none of this matters if you're looking to hook up with some milf during a Vegas trip, but it does matter if you're trying to hookup at home. Here are a dozen bachelor pad improvement ideas that just might change your sex life forever.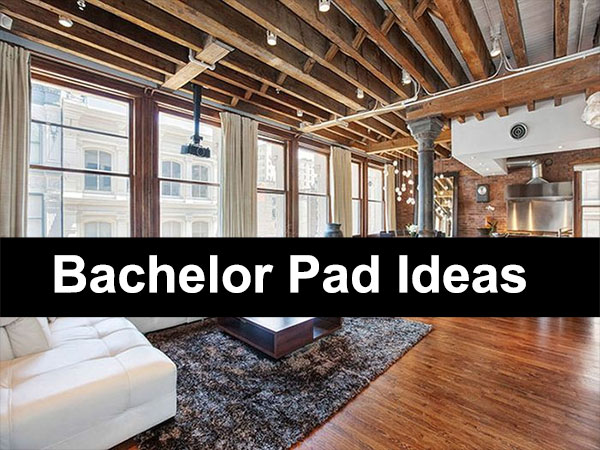 Great Bachelor Pad Improvement Ideas If You Want To Hookup More
I'm about to set it straight here. Consider each of these ideas non-optional a must if you want to impress more mature women you bring back to your pad.
Cleanliness and Aroma Matter So Clean It Up!
Many bachelor pads have the musty smell of body odor and bongwater, even if it's clean. Keep your place clean and don't skimp on the disinfectant to kill those mystery odors.
Get Better Furniture e.g. Not A Futon
Get some furniture that is not a futon, beanbag, or lawn chair. If you're using that type of stuff, then you're a loser. Find a sofa, maybe a couple of chairs. It doesn't have to be anything expensive. Just simple, comfortable, and permanent.
Ditch The Posters
Nothing makes you look more immature than a bunch of faded and wrinkled posters all over the wall like you're still in college. Purchase some artwork or put your posters in frames.
Remove The Sheets and Towels
Look at whatever you have hanging over your windows and ask yourself what a date would think. Get some curtains or blinds. They aren't that expensive.
Keep The Bathroom Clean
Even if you keep your bathroom organized and free of clutter, you still need to disinfect. Germs can accumulate in the bathroom and cause a lingering smell.
Buy New Bedsheets
Throw away those sheets that you've had on your bed for over a year. Get the highest quality bedding you can afford and keep it clean and fresh.
Stock Better Food
Bachelors tend to have a lot of ramen noodles and Hamburger Helper for dinner choices. Change your eating habits and stock up with actual food. It's healthier, tastes better, and makes you look better.
Match Your Dishware
Throw away all those bent forks and cheap plates of various colors and sizes. Purchase a set of dinnerware that matches and silverware that isn't old and damaged.
Expand Your Beverage Choices
You might have a few beers in the fridge from poker night with the guys, but you need better choices for guests, especially women. Have some decent liquor and mixers on hand.
Read and Display More Books
Buy more books and read them. Many women like seeing books on display because of the implied intellectualism. Reading will also sharpen your mind.
Improve Decor By Adding Plants
Give your place a touch of class and a more relaxing atmosphere with house plants. They add a beautiful splash of color and life to your place and a great addition to any home décor.
Improve Your Organization Skills
Keeping your place clean and free of smells can be a taxing effort if you are not organized. Simple organization can help you maintain overall cleanliness with less effort.
These are all simple tips and ideas that you can do to improve your bachelor pad. They are surefire ways to impress most women that have the pleasure of entering your place.