I'll tell you what, there's no better feeling than getting into a deep conversation with a dirty talking milf. It's one of those things that you might be more I used to the more you do it. I was so nervous when I first started getting into web dating and sending messages to local milfs. I thought about it so much, trying to think of the perfect thing to say to her, when in the end I just needed to be myself – witty and funny, charming and confident. You don't need the best pick-up line or one-liner or clever thing to say, you just need to make her smile and remember you and want to get to know you more. That holds true especially when you're trying to connect with a milf that loves talking dirty to guys. Remember, you don't need to talk as filthy as them, but don't be a stiff either.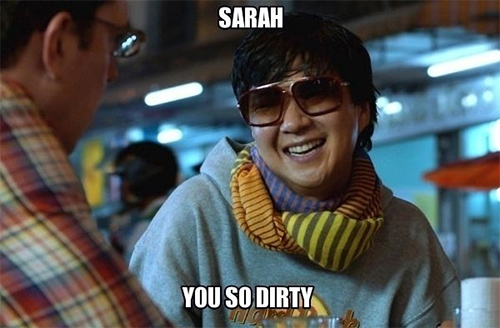 One thing to keep in mind is that it is OK to be a little edgy in your conversation. I'm not saying be a jerk or get into sex talk, but a little playful teasing can be fun and if she's a cool hot milf, she'll dish it right back. If there's something you think may come off wrong, don't be afraid to throw an emoji at the end, if messaging (perhaps a smile or a wink), to let her know that you're just joking around with her. Every horny mom likes a guy with a sense of humor, so show her how clever and funny you can be. Some of them yearn for a filthy guy that's going to talk to them like they're the nastiest women on this planet. They love it, but not all of them love that type of talk so tread lightly.
The thing that you should avoid at all costs is giving too much information about yourself. She doesn't want to hear your family or any of that boring shit, just like you don't want to hear about all her unimportant stuff. It all gets boring, and if you're both talking to multiple people at the same time (like we all are), then you won't remember what details belonged to who anyways. Save that kind of stuff for the first date when you meet in person and it's obvious that you two want to get to know each other. Definitely don't tell her about your dick, unless it really his huge.
For the online conversation, find some common interests (her bio is a great place to dig for ideas) and talk about those. Both of you are into running? Ask her about the last race she was in? Both are fans of beer or martinis? Ask her what her favorite bar is. This is a great way to segue into asking her out for a date – ask her to show you her favorite bar, or offer to take her out to yours.
Which brings me to my final tip – don't wait too long to ask her out. You both are looking for a partner, not a pen pal. Once the conversation is flowing nice, go ahead and ask her to meet in person. Have a few fun date ideas on hand to throw out and meet her before someone else asks her out.