Guess what, it's not just high school and college students that like to NF & C. Most milfs are well aware what this means and if you're not then you better get with the program fast! In case you are out of the loop and not sure what the term means; "Netflix and chill" is a euphemism for sex and pertains to the invitation to watch movies on Netflix as an invitation for banging. It's a growing phenomenon that you can take advantage of if you know how to approach it. Here are some tips to help you make it happen.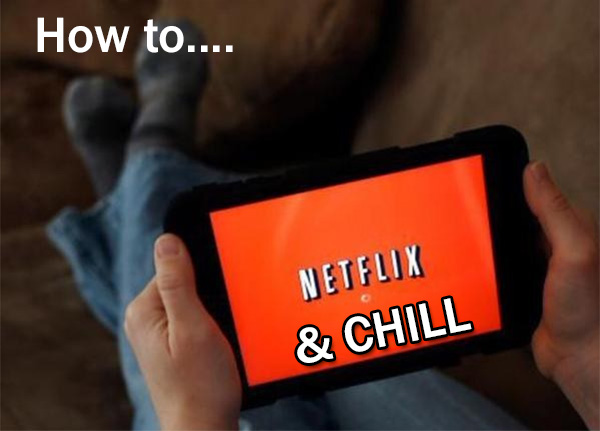 Netflix and Chill Tips To Help You Get Laid
Here are some simple tips and steps that you need to be aware of if you want to get laid using the good old Netflix and Chill tactic. Read this entire article to learn everything you need to know about getting lucky with milfs through the use of streaming movies.
The Invitation
When you invite a mature woman to "Netflix and chill", you can't be too obvious. Sure, mature women want sex, but they may not want you to be too upfront about it. Even if she knows what she's getting into, you can't make it an obvious invitation for sex. Don't even mention what platform you will be watching movies on. Just ask her if she'd like to go back to your place and have some drinks and watch a movie. Fix the drinks, maybe some homemade popcorn, then switch the remote to Netflix and start browsing.
Choosing The Movies
How well your session goes often depends on what movies you choose. Don't just choose what you want and hit play, but don't just ask her to choose either. Comedies are often a good choice, especially late night comedies. Horror works very well too. Make sure it's something that both of you are into and don't commit to the first choice. What I like to do is add a few selections to my queue and choose from those. Don't choose action unless that's what she's into.
Making Your Move
You can either make your move during the movie or wait until after it's over. Begin with some light touching during the movie and proceed based on how she responds. She is likely to smile at you and go back to watching the movie. Don't make your touching sexual unless she turns her attention towards you and she gets that come hither look in her eye. Always pay close attention to how she reacts to your flirting and she will let you know if she is ready to get sexual.
Stop The Movie
This is really up to you, but I would suggest stopping the movie if she gets that come-hither look. Depending on which movie you choose, it could be distracting. If you're watching a comedy, there could be a scene or a line that makes one of you laugh and it could potentially kill the mood. If you're watching a horror movie, you don't want to hear someone on the movie screaming and being cut open while both of you are concentrating on your arousal.
After Sex Movie
Netflix and chill does not necessarily have to end when the sex is over. Bask in your after-sex glow and resume the movie that you stopped before having sex. You will both be more relaxed and probably pay much closer attention to the experience of watching a movie. By the time the movie is over, she may want to go at it again. Trust me, these older ladies have the sex drive of an animal. You'll be shocked when you find out just how often they can bang over and over. In fact, you better be able to last if you want to impress her.
If you haven't connected with any women to have a night of Netflix with, then start by registering on this site today.