I've been flirting with the idea of meeting milfs using multiple dating sites. One thing that I learned recently was that a site called FlirtBuddies.com exists and it's not a good site at all. Here's what you need to know about it and why I suggest avoiding FlirtBuddies and every other scam site out there…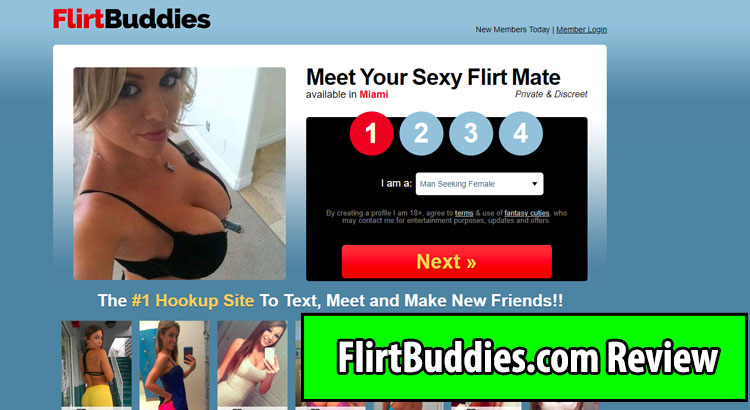 My Review of FlirtBuddies
Dating sites and their scams are pretty well known to the average consumer. But many people are surprised just how many of these types of scams exist and just how reputable they are able to appear.
With flirt buddies, their dedication to recreating a format and style that is typical to dating sites lets you know how seriously they take this scam. They make it seem like this is a place where an endless sea of hot girls are desperate for any kind of male attention possible.
This should raise some red flags for you, but sometimes the allure of a beautiful girl is just too much, and that is how sites like this end up making their money.
They suck you in to lower your guard, then try to have you stick around for no reason while your card gets charged on a monthly basis. Flirt Buddies uses a variety of textbook tricks to pull off their scam.
Fake Profiles Everywhere
Flirtbuddies.com has some features that you would expect from a dating site. There are messages, search functions, and local matches that claim to find women in your area.
They claim to offer packages that are at a lower rate than other dating sites, offering a variety of small-day packages. However, they fail to mention that signing up for a few-day trial automatically upgrades to a monthly trial after it ends. The reality here is that everything on the site is fake.
The pictures you will find here are of beautiful model quality women, with professional headshots. Why would these women be so desperate for action on this site?
It doesn't stop there, as the messages you are receiving are not from real people at all. They are from computer software that's designed to spam you with the same messages over and over, that's why they all seem the same.
It's All An Elaborate Scam
This is how the scam plays itself out. The moment you sign up, you will be hit with over a hundred messages. This may excite you and lead you to believe that there are people interested in your account. You'll see that there are many views being logged on your account and your email is also filling up with girls who want to talk.
However, you'll notice that you get these messages regardless if your profile is properly set up or you even have a picture. What sense does it make that all these women want to talk to you when they have no idea who you are?
 Flirt Buddies Reviews Conclusion: A Dirty Business Through and Through
You have to understand that every interaction on the site is fabricated. Sites like this normally employ third-party contractors to run profiles so that you get stuck talking to strangers you will never meet in real life. All so they can keep charging your card every month.
They steal the images of the women from across the internet and without consent. They just care about creating an illusion that makes you feel like it's worth it to hand over your credit card number. It's a very disgusting practice but it's so common because it works. You have to be able to read the signs and then it will become clear to you just how dangerous these sites are.
If you're looking for a winner – start here playa!