I'm a firm believer that all guys should try and date many different types of women. Amongst that category is women that are milfs. I will be giving you a number of valid reasons why I believe all men should date a milf at least once or twice throughout their lifetime. If you are anything like me then you likely want to date milfs 24/7. That's something that I can completely agree with doing and something that I'm super passionate about. Having spent the last few years dating milfs I meet online, I've come to develop a better understanding as to why I like these mature women so much. Here's a quick rundown of a few reasons why I really think everyone should be trying to date milfs instead of younger girls.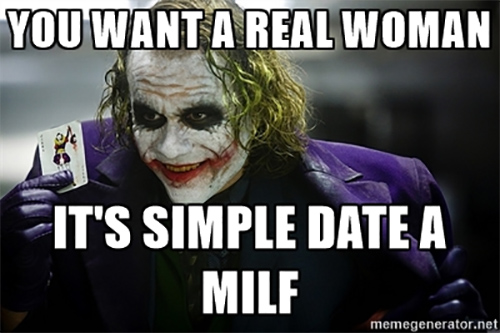 Seven Main Reasons Why Every Guy Should Date A Milf
These reasons are in no specific order at all. I've come up with the list of reasons myself after going over a few scenarios in my head based on some personal experiences. If you agree or disagree with anything I've said below, please don't hesitate to let me know. I love getting into conversations with people about this type of stuff. Here goes nothing!
They Are Put Together
Most milfs out there in this world have no choice but to be put together. They must have their shit together because they have so much going on in life. Kids, school, work, gym, errands and more! If you meet a milf, there is a good chance that she's on a strict schedule and have plans and goals. That's a huge plus for young guys like me. Reason being, they have a life and want you to play a small role in it, that's it. Quite frankly, I'm just fine with that too.
Don't Want Anything Serious
These working milfs often do not want anything serious at all. They prefer to keep things casual, loose and easy. This is pretty important and a huge plus because you don't have to worry about getting too deeply involved with things. Women that are looking for serious relationships can be a pain in the ass. Thankfully you will not find that on Milfplay at all.
No More Kids
Score! You can cum inside one of these naughty milfs and not have to worry about kids at all. Most of these mature women do not want kids because they either have had them already or it's just not a part of their personal agenda. That's a great thing for you especially if you're a young guy simply trying to get balls deep into some mature booty. No one wants to babysit more anyway!
Not An Attention Whore
Not going to lie, I've met some attention seeking hoes in my day. Luckily, most of them were not milfs and none were milfs that I met using this milf app. Younger girls in college like attention. They want to be noticed in public. Most milfs don't really care about that type of stuff. They spend their time staying out of the limelight. Sure, you need to show them your undivided attention in the bedroom but not in public.
No Time For Games
Dating games are for immature people. I've never met a hot milf that plays games. Most of them either want to meet for drinks and sex or they don't have time to spend with you. I sincerely appreciate that they operate like that. Having been through a couple of relationships in college, I know how much of a pain in the ass games truly can be. Most of the time, it's head games that cause the issues.
Well Experienced
Have you ever been with a milf or an older woman that can literally suction cup your cock while deep inside them? I'm not joking at all. This is something that I've gotten accustomed to experiencing and it's partly because some of these women fuck like pros. It's because they've had sex so much! I love mature pussy, what can I say!
Has (Sexual) Goals Set
Last reason on the list is the goal setting that these milfs tend to do. No, I'm not talking about the number of trips to Starbucks they take per week. I'm talking sex goals. They have goals set to fuck a certain number of guys during the week. They want to go on a specific number of dates and get their pussy licked a certain number of times as well. The goal is simply to orgasm, a lot. What's not to love about that!
These reasons should be enough for you to want to date a milf. If not, then you might not be into women….just saying!