I recently wrote a review of this site (Localmilf.com) and I've decided to share some more insight into things. Specifically, I'm sharing how to cancel your account and delete your profile if you've made the foolish mistake to join. Trust me, if you did, you're not alone. A lot of people join LocalMilf expecting one thing but they end up receiving something completely different. Here's what you need to know if you want to get your money back and cancel your account on this shady dating website.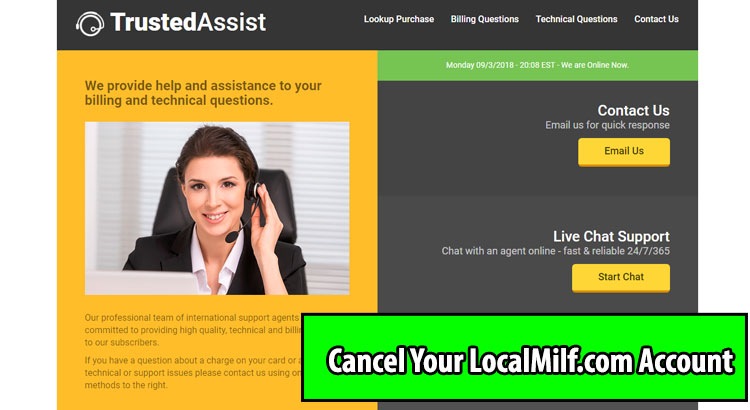 Cancel Your Profile And Membership At LocalMilf In Less Than 5 Minutes
It shouldn't take you much time to realize that you made a mistake when you signed up for Local MILF. The site does everything in its power to trick you into upgrading your profile and handing over your money. Not only do they have tons of fake profiles to entice you, but they pay people to send you messages from them. These messages will be never-ending while you're a free user.
You won't be able to respond to them because it's all a trick to get you to open up your wallet and squeeze cold hard cash out of you. After your curiosity has finally gotten the better of you, you're going to see for yourself that most of the people on the site are totally fictional. The site is allowed to remain in business because everything that they're doing is legal.
All you need to do is check out the terms of service and you'll see it all laid out for you. They explain their scam in detail, then they make you agree to it. It's something that happens every single day on the internet and the best thing that you can do is remove yourself from it immediately. Here's what you have to do to delete your profile:
1. Log into your account.
2. Click on Account Settings at the top left-hand side of the page.
3. Scroll all of the way down to the middle of the page. This is where you'll see "Delete my login and profile." Click on it.
4. After that, click on the black button that says Delete My Login.
5. Enter your password when asked to do so.
6. Click on the black button once again.
7. As long as you now see "Your profile has been permanently deleted from the system", you're all set. You no longer exist on the site.
If you've already paid to upgrade your account, you're going to need to cancel that separately. If you don't you're still going to find yourself getting charged every single month. Here's how you do that:
1. Head to trustedassist.com
2. You can also email them if you prefer.
3. Fill out the form while making sure to enter all of your information. You're going to need your name, email, username, what you're requesting and a message.
4. Click on send and you should be all set. If you don't get an email from them, you're going to have to go through the process of contacting them.
There are so many scams out there that it's tough to keep up with all of them. Whenever you find yourself in the middle of one, you want to get yourself out of it as quickly as possible. The longer you wait, the more money you're going to waste. There's no sense in giving them the satisfaction. You can always report them to the BBB as well. While what they're doing is legal, that doesn't mean it's ethical. Maybe if enough people do it, action will finally be taken against them.
That's all you need to know about this site if you want to get out of this nonsense. My advice would be to delete your profile, get off this site and finally join a milf site worth joining that might actually get you laid.